Q1 2018: Capacity and production statistics
Download PDF

This quarter, wind was the second largest source of electricity behind gas.
Renewables made up 26% of the generation mix, and all low carbon sources made up 49%. Generation from coal and gas were both down on this quarter last year due to the growth in renewable energy output.
Gross electricity demand was a tenth lower than in the first quarter of 2010. Demand net of renewables was down by 27% though, indicating just how the market for fossil fuels is shrinking.

Electricity prices averaged £54/MWh over the quarter, one-sixth higher than last year. The real-time cash out price fell below its previous minimum of –£100/MWh on three occasions. Prices hit –£130 to –£150/MWh in periods when wind and coal output was high, and gas output was low.

Britain's electricity supply mix in the first quarter of 2018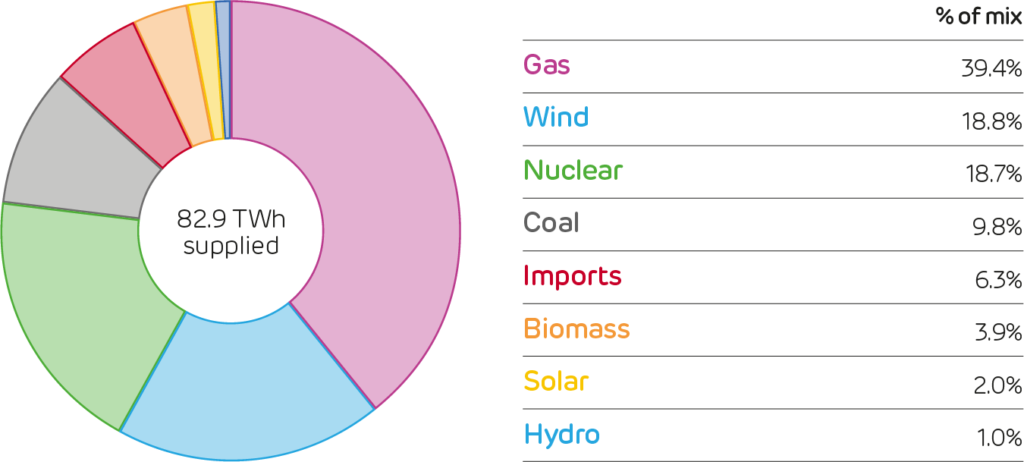 Installed capacity and electricity produced by each technology1

Other statistical sources give different values because of the types of plant they consider. For example, BEIS Energy Trends records an additional 900 MW of wind, 600 MW of biomass and 500 MW of solar, respectively producing 1.4, 1.2 and 0.2 TWh extra per quarter. These plants and their output are not visible to the electricity system and so cannot be reported on here. ↩
Authors: Dr Iain Staffell, Professor Richard Green, Dr Rob Gross and Professor Tim Green.