Q2 2018: The summer wind drought and smashing solar
Download PDF

by Dr Iain Staffell – Imperial College London
Wind output fell by 60% between January and June, but Britain's 'wind drought' was balanced out by a record-breaking summer for solar panels.
Low wind output during the summer heat wave has been widely reported, as the high pressure sitting over the country has kept the skies calm.
For three weeks in June, wind output hovered between 0.3 and 4.3 GW, well below the 13 GW peak output over the quarter. The minimum of 273 MW was the lowest instantaneous output seen in two years.
While this might sound severe, wind output during Quarter 2 was up 2% on the same period last year. That said, Britain's wind capacity has grown by a sixth over the last year, so it's productivity this summer has been lower. The fall has been magnified as we move out of an extremely windy winter. Given that summer demand is low, National Grid confirmed "we're comfortable with the level of spare generation we have available."

The fall in wind output coincides with a record period for Britain's solar panels. As Britain's solar fleet overtook the installed capacity of coal power stations (see Article 6), solar output broke past 9 GW in May to a new record of 9.39 GW at lunchtime on 27thJune.

Britain saw 13 days in June where solar peaked above 8 GW., including every day of the last week (during the heatwave). The average capacity factor of Britain's wind farms was just 17% in June, less than the 19% recorded by solar panels1.

Monthly-average generation from wind (left) and solar (right) over the last three years


Output from Britain's wind farms during Quarter 2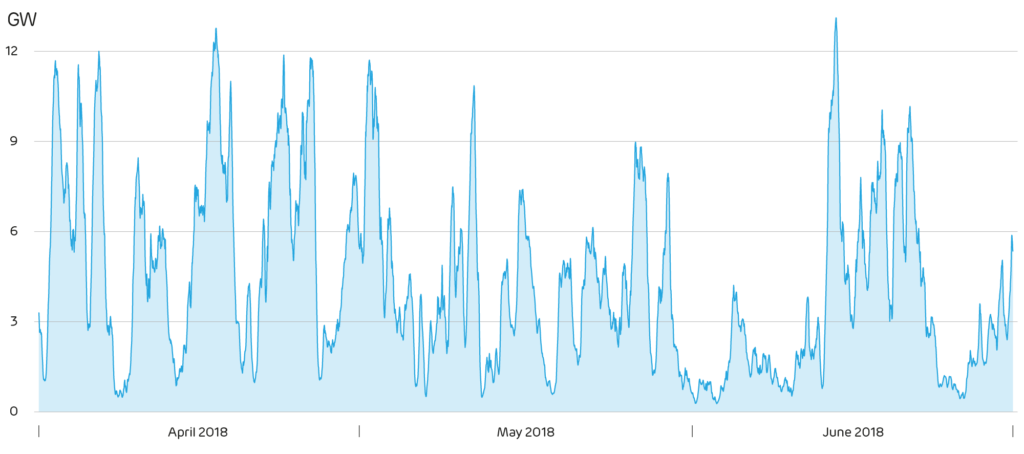 Capacity factor shows the average power production relative to the amount produced if the installed capacity ran at full output all the time. ↩
Authors: Dr Iain Staffell, Professor Richard Green, Dr Rob Gross and Professor Tim Green.