Q3 2017: Coal output bottoms out
Download PDF

by Dr Iain Staffell – Imperial College London
Coal generation remained historically low with just a 1.9% share of generation over the summer.
Between April and August Britain's 14 GW of coal stations produced just 0.6 GW on average. This rose to 1.4 GW in September as demand started rising, suggesting that coal is now practically a winter-only fuel used to meet peak demand.
Averaged over this quarter, only 6% of the installed coal capacity was used. However, on the 19th of September 40% of the coal fleet was called upon to produce 5.7 GW. This highlights the need to retain spare capacity for times of peak demand.

Britain's mix of installed capacity and its production have evolved dramatically over the last eight years (see below). Part of coal's decline is due to the wave of retirements over the last five years. Coal capacity fell from 28 GW in 2012 to 14 GW in 2016, either because plants reached the end of their lifetime, became uneconomical, or were forced to close because of clean air legislation.
The amount of controllable capacity (which can be dispatched when needed) has fallen by 20 GW since its peak in 2012, despite total capacity having increased since then. The difference in scale between capacity and output is most obvious for renewables. The 28 GW of installed wind and solar capacity produces less energy than the 9 GW of installed nuclear power.

The capacity mix (left) and output mix (right) in Britain over the last eight years. Capacity is shown at the end of each month, output is the 3-month rolling average.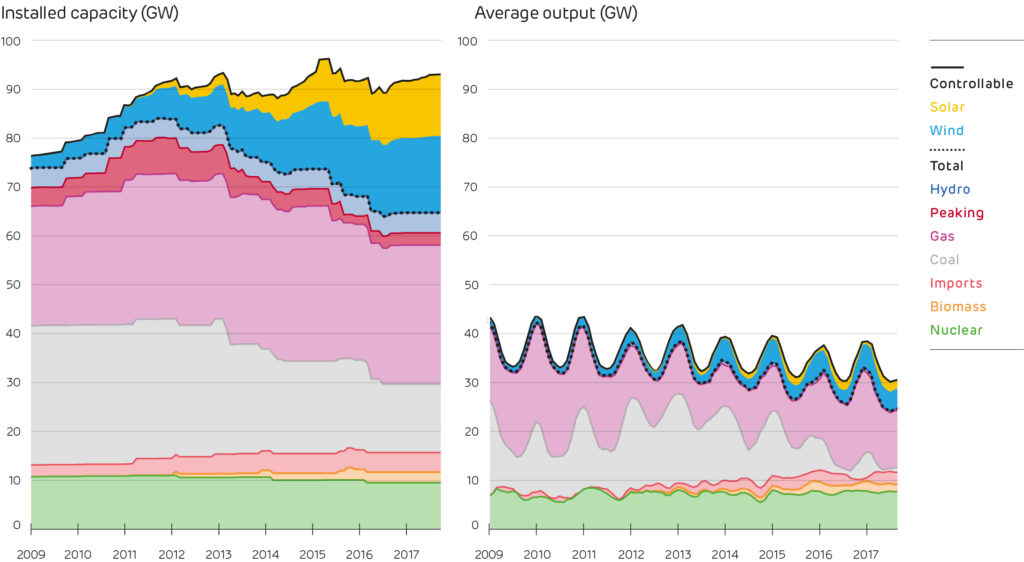 Authors: Dr Iain Staffell, Professor Richard Green, Dr Rob Gross and Professor Tim Green