Q2 2019: The role of onshore and offshore wind
Download PDF

by Dr Iain Staffell – Imperial College London
The UK is the world's leader in offshore wind, with more capacity installed than any other country. However, three-fifths of our wind energy still comes from the country's 900+ onshore wind farms.
The Electric Insights website now shows the split between onshore and offshore wind, although the feature is still experimental as the data feed from Elexon (who run the electricity market) is intermittent. This new data shows that even with the world-leading rise of offshore wind farms, the UK's onshore wind farms are still very much pulling their weight. From 2015 until present, onshore wind farms have consistently supplied 55–65% of the country's wind power.
Operating wind capacity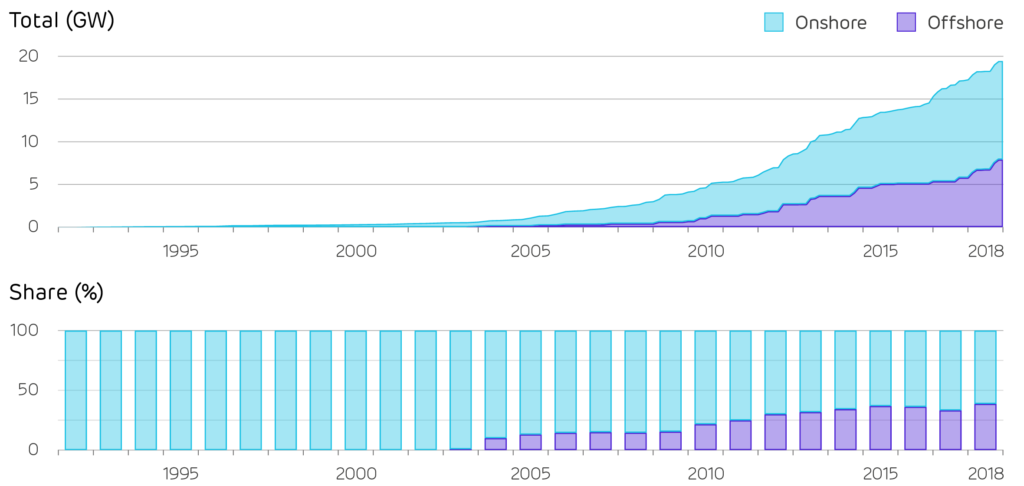 The UK has over 900 onshore wind farms ranging from 1 up to 322 MW in capacity. Together these have nearly 8,000 individual wind turbines and a capacity of almost 13 GW, enough to supply around 10 million homes.
In contrast, there are only 40 offshore wind farms, ranging from a single 7 MW turbine in Fife up to the world's largest – the 659 MW Walney Extension off the coast of Cumbria. Although there are only 2,000 turbines offshore, they are much larger than their onshore neighbours, so the total capacity is 8.5 GW, enough to power 6 million houses. For a sense of scale, Britain's offshore wind capacity overtook the functioning capacity of the country's 15 nuclear reactors earlier this year.1
Half of the UK's wind capacity is in England, most of which is offshore. Despite having only 8% of the UK's population Scotland has one-third of its wind capacity. Wales and Northern Ireland have 4% of the population and a sixth of the wind capacity.
Wind farm capacity as of January 2019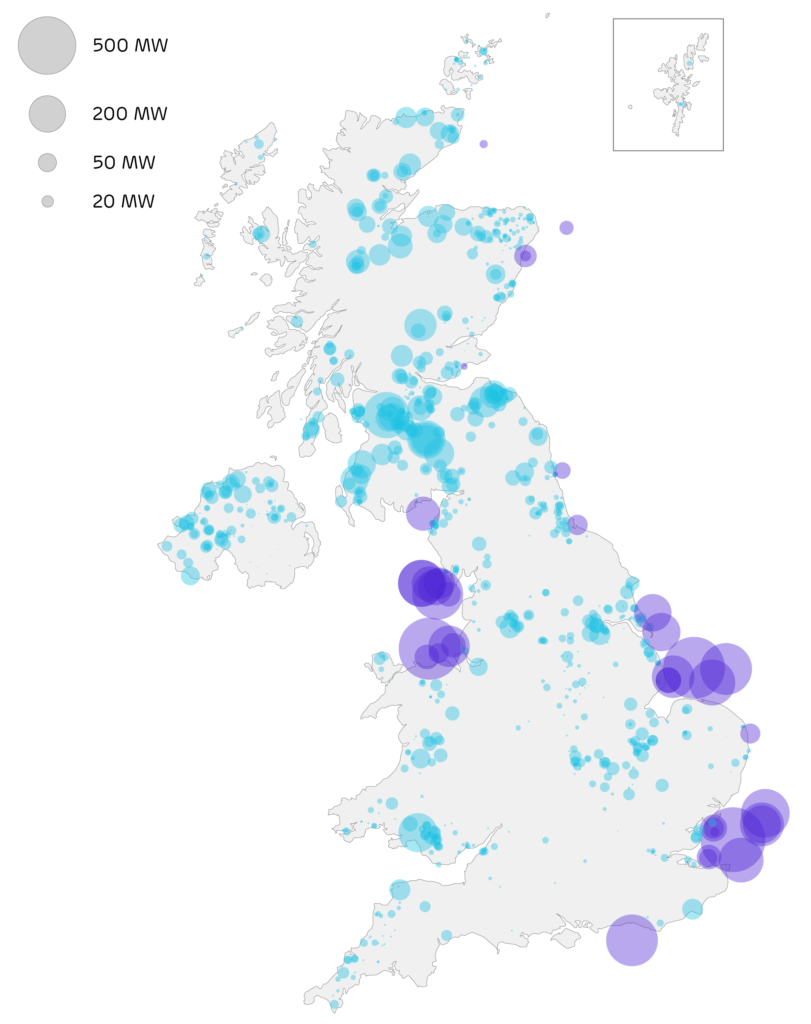 Click here to view an animated version
1: Although the nameplate capacity of Britain's nuclear reactors is 9.5 GW, many of the older reactors have been de-rated as they approach the end of their lives. The national fleet has not produced more than 8 GW at any point in the last twelve months.
Authors: Dr Iain Staffell, Professor Richard Green, Dr Rob Gross and Professor Tim Green.