Q2 2023: Wind capacity overtakes gas
Download PDF

After more than a century of fossil fuel infrastructure dominating our electricity system, Britain has now installed more wind capacity than any other type of power station. In June, the nation's fleet of wind farms reached 27.9 GW of capacity[1], overtaking combined cycle gas power stations for the first time. This makes Britain only the fifth country in the world to have built more wind farms than any other form of power station.
Gas had been Britain's largest source of power capacity for the last 10 years, and before that coal reigned supreme since the Victorian era. Coal was the country's largest capacity until 2011, but the last twelve years have seen almost the entire fleet of power stations retire, with capacity falling from 28 down to just 2 GW. Dozens of gas-fired power stations were built during the 1990s as part of the 'Dash for gas'.
Their capacity plateaued at 30 GW in 2010, enough to power half the country on the coldest winter days. Since then gas has been in slow decline, as the oldest stations reached the end of their working life and more stations retired than new ones were built. In fact, no new large-scale fossil-fuelled power stations have been built in Britain since 2016 (with Carrington gas station in the Northwest the last to be built).
Britain's wind farms have seen the opposite story, as capacity tripled over the last ten years. Today's capacity is split equally between onshore (14.1 GW) and offshore (13.8 GW) farms. England and its seas host half of this capacity, with three-eighths in Scotland and one-eighth in Wales. Taken all together, around £60 billion has been invested over the past 20 years to build these farms[2] (close to £1000 for every person in the country), mostly by pension funds and other large institutional investors.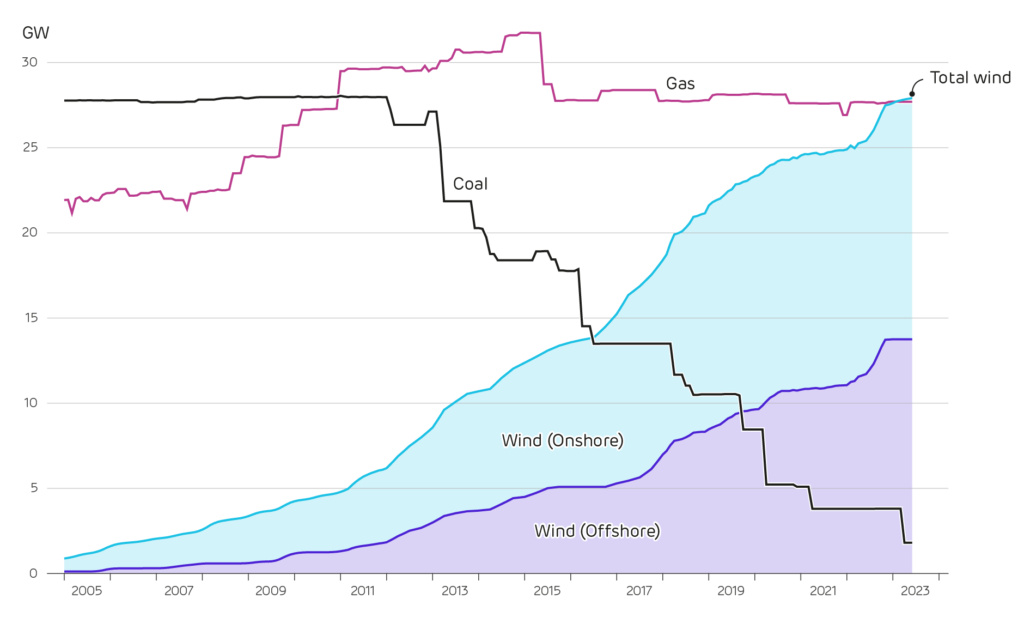 The rate of building new farms has gone through peaks and troughs over the years, but has consistently averaged around 2 GW per year since 2009. New installations faltered in 2020 as the effects of the de-facto onshore wind ban took hold, and the pandemic halted construction work. Project completions then crashed in 2021 with just 0.36 GW installed, the lowest in fifteen years. Last year saw a return to form though, with large projects at Hornsea Two, Moray East and Triton Knoll all coming online.
Looking ahead, Britain's wind capacity will continue growing at pace. 6.7 GW of wind farms are currently under construction. Scotland's largest offshore farm, Seagreen, is nearing completion with other large projects underway off the coast of East Anglia and on Dogger Bank. Beyond this, the UK has a staggering 98 GW of offshore wind in planning, a pipeline that is the second largest in the world (behind only China), ahead of the United States and all European countries.
This milestone puts Britain at the vanguard of the transition to renewables. The UK joins Denmark, Spain, Ireland and Finland as only the fifth country in the world to have built more wind than any other type of capacity. Six countries – Australia, Japan, Germany, Belgium, Luxembourg and the Netherlands – all have more solar PV than any other capacity, and several countries across Europe and the Americas have hydro as their largest capacity. Solar PV and wind now make up three-quarters of all new power capacity installed worldwide, so we should expect more countries to join the UK's ranks in the coming years.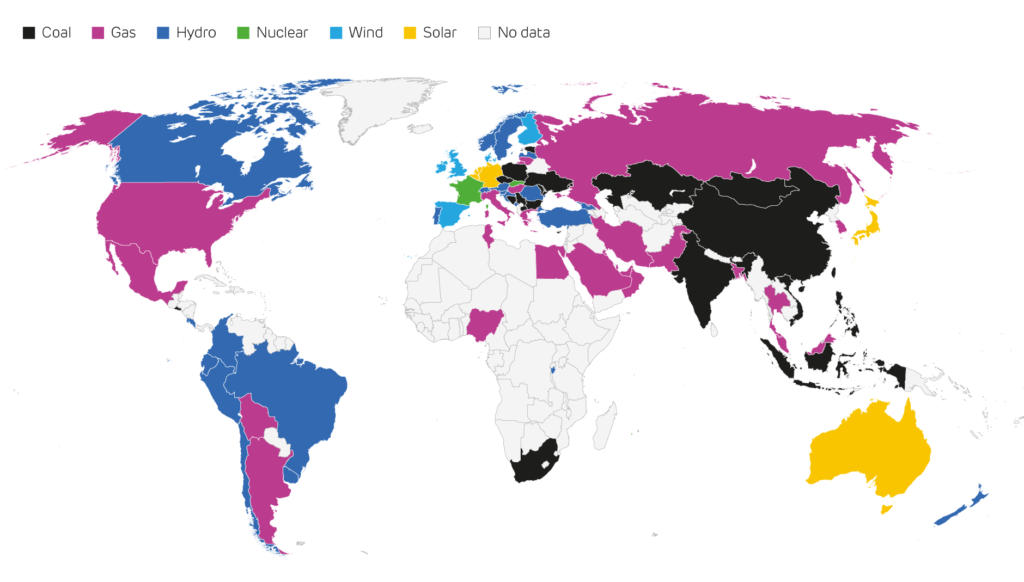 ---
[1] That is 27.9 GW of wind in Great Britain (England, Scotland and Wales), and 28.9 GW in the United Kingdom (including Northern Ireland). Both values overtook the capacity of natural gas power stations (27.7 GW in Britain and 28.7 GW in the UK).
[2] £60 billion in today's money, calculated from the annual average capital cost of wind turbines back to 2005 multiplied by the capacity built in each year. This is split between onshore and offshore capacity (approx. £21 billion for onshore and £39 billion for offshore).