Q3 2018: Renewables leapfrog fossil capacity
Download PDF

by Dr Iain Staffell – Imperial College London
Britain's power system is slowly but surely walking away from fossil fuels, and this quarter saw a major milestone on the journey.
At the start of this decade, Britain had seven times more generating capacity from coal, oil and gas as it had from renewables.But since their peak, 40% of Britain's fossil-fuelled plants have retired as they reached the end of their lives or became uneconomical, meaning Britain now has just 41.2 GW of fossil capacity. Meanwhile, renewable capacity has grown six-fold since the start of the decade; so wind, solar, biomass, hydro and waste1 now stand together at 41.9 GW of capacity, outstripping fossil plants for the first time2.
The roll-out of new renewables has eclipsed the capacity growth seen during the 1990s 'dash for gas'. At its peak, Britain was building 2.4 GW of new gas-fired power stations each year. So far this decade, an average of 3.8 GW of new renewable capacity was built, made up of 1.0 GW of onshore wind, 0.8 GW of offshore wind, 1.4 GW of solar and 0.4 GW of biomass.
The total installed capacity of renewable and fossil power stations in Britain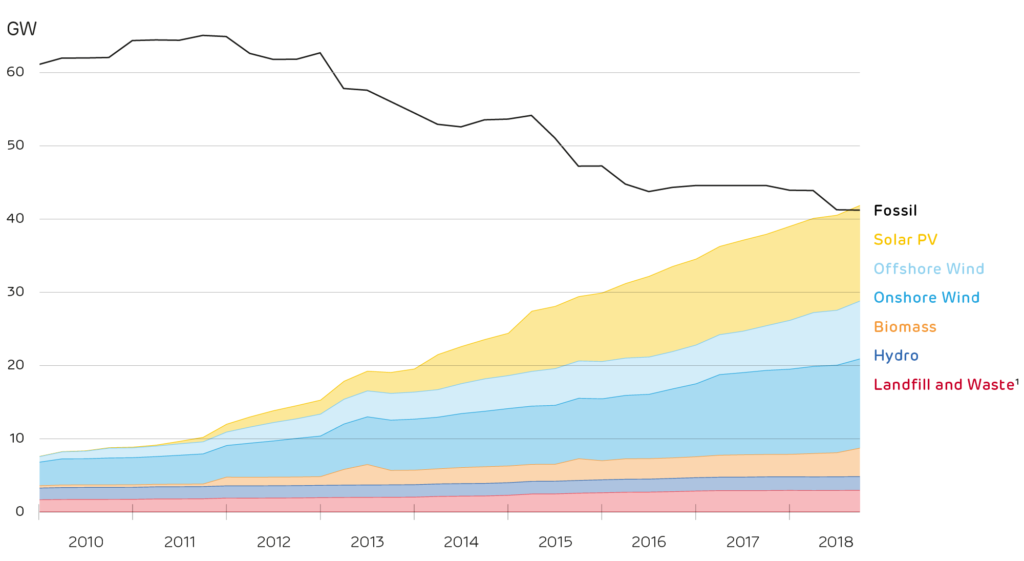 Capacity additions and retirements over the last five years (ending October)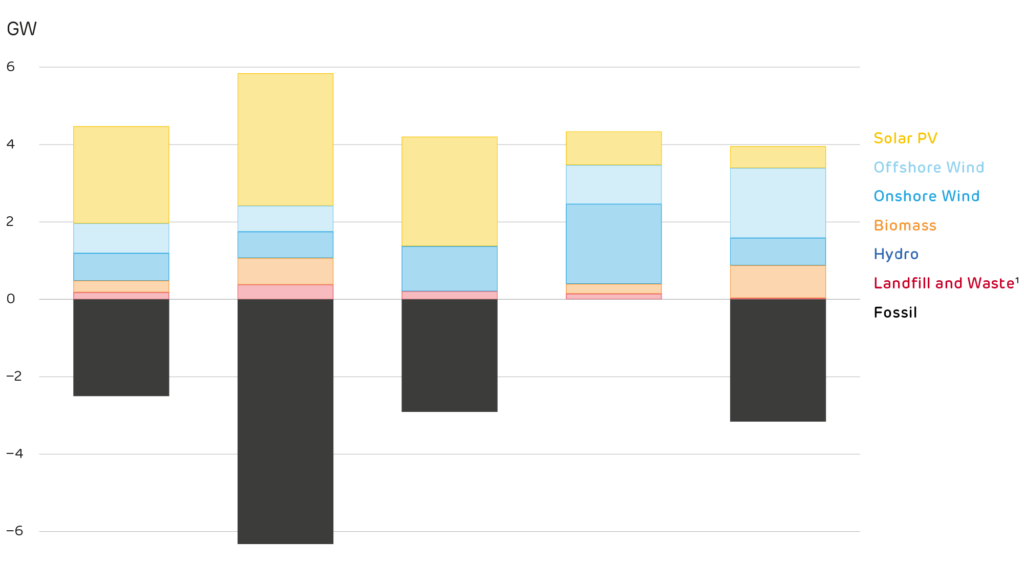 Wind farms form the largest share of Britain's renewables, and wind smashed through the 20 GW markin September. RenewableUK report that it took 19 years to build Britain's first 5 GW of wind capacity, but only 2 years to build the most recent 5 GW. There are 13 GW of onshore wind farms, about two-thirds of which in Scotland. The 7.2 GW of offshore capacity makes Britain the world's leader, with 45% of global capacity. So far this year,Galloper, Rampion, Race Bank and Walney 3 have come online, making Walney the world's largest offshore wind farm (at 0.66 GW).

Solar power has the second largest capacity of renewables. 13 GW of solar panels are distributed across 960,000 rooftop systems and numerous larger farms, primarily across the south of England. Capacity growth has slowed in the last two years (see chart above right, and chart below), but subsidy-free solar projects are beginning to appear as the cost of panels continues to fall.

Biomass is now the third largest renewable generator, and formed one-fifth of new renewable capacity added in 2017/183. Two coal-to-biomass conversion plants came online, Lynemouth in Northumberland, and Drax's Unit 4 in Yorkshire, together adding more than 1 GW of capacity. Britain also has hundreds of smaller plants which produce electricity by burning various forms of waste.

The fall in fossil capacity has come mostly from coal plants retiring (see chart below). A quarter of the country's coal capacity has retired in the last year, leaving just six generators in the country. The remaining stations have contracts in the capacity market which keep them economically viable, but some of these expire as soon as 2019.

However, unabated gas capacity will remain for the next few decades, and may soon increase as a new gas power stations are being developed in Keadby, Lincolnshire and on the site of the recently-closed Eggborough coal power station in Yorkshire. Similarly, small gas and diesel reciprocating engines are appearing throughout the country, as a cheap (but polluting) supplier of peak capacity and balancing services.

The evolving capacity mix will undoubtedly change how the power system operates. These stats show we are making rapid progress on shifting generation capacity to renewable and low-carbon sources. The next challenge is to make the most of these sources in order to deliver savings to consumers and the environment. That requires a smarter and more flexible power system, as recommended by the National Infrastructure Commission and the government's Smart Systems and Flexibility Plan. Big questions remain on how best to integrate weather-driven renewables, how far we should decentralise the power system and how to make the markets work for smart and flexible technologies.

Installed capacity for different types of generation (fossil left, renewable right)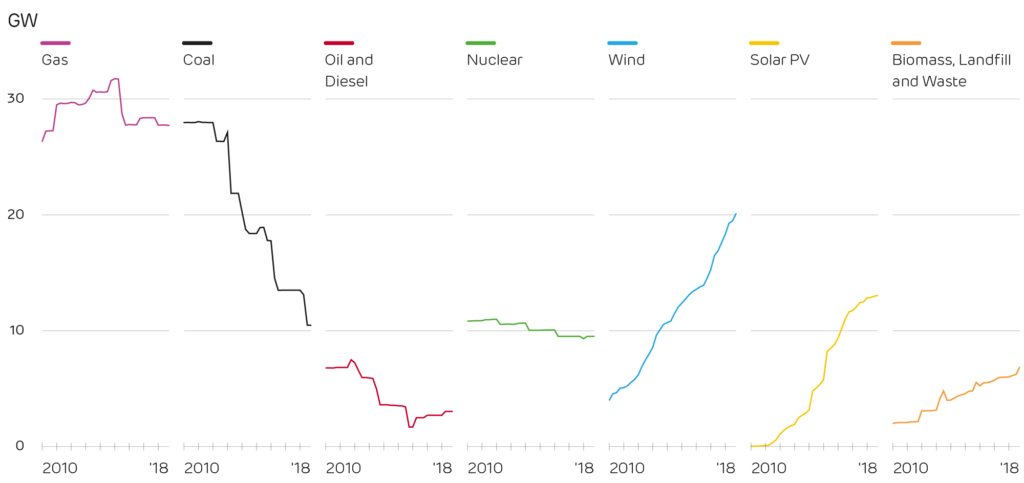 1: Includes landfill gas, energy to waste, anaerobic digesters and animal biomass.
2: This article shows all types of renewable and fossil capacity, including smaller generators that are normally invisible to Electric Insights. Data is taken from BEIS Energy Trends, RenewableUK and Electric Insights databases. In particular, this article includes waste-to-energy plants, diesel engines, and smaller hydro and biomass plants do not participate directly in the electricity market or report their output to National Grid.
3: The twelve months to October 2018
Authors:Authors: Dr Iain Staffell, Professor Richard Green, Dr Rob Gross, Dr Malte Jansen, Professor Tim Green and Luke Clark.