Q3 2020: Headlines
Download PDF

by Dr Iain Staffell – Imperial College London
This quarter we discuss two technologies with very different fortunes.
Offshore wind has been dealt a significant boost after government reaffirmed its commitment to an upgraded target of 40 gigawatts (GW) installed by the end of this decade. Our first article examines the announcement, and the claim that this would make the UK to wind as Saudi Arabia is to oil. Our second article looks at the challenge of trying to balance the electricity system with such a lot of renewables.
The story could not be more different for Britain's nuclear fleet. Output fell to just 8% of electricity supplied, quite possibly its lowest share in four decades. Most of the country's reactors were offline for maintenance, but even so, National Grid had to pay Sizewell B to reduce its output to maintain system stability.
Our fourth article provides an update to the low-carbon electricity league table, first produced three years ago. Over the last decade, we find the UK has decarbonised its power system faster than any other major country. Many other countries are also reducing the environmental impact of their electricity production, and not necessarily those you would naturally expect.
Focusing on the last quarter, fossil fuels grew to supply 42% of Britain's electricity – their largest share for the time of year since 2016, and the first year-on-year growth in a decade. Three gas power stations were mothballed[1] though after their owner went into administration, as 'the recent challenges facing the UK power market' meant the were no longer profitable. If they remain closed, this would reduce Britain's gas power station capacity by 8% (2.2 GW).
This was despite power prices recovering from recent lows in Quarter 3, returning to their 2019 levels. September saw a large price spike due to very low margins (the amount of capacity declaring itself available being uncomfortably close to forecast demand).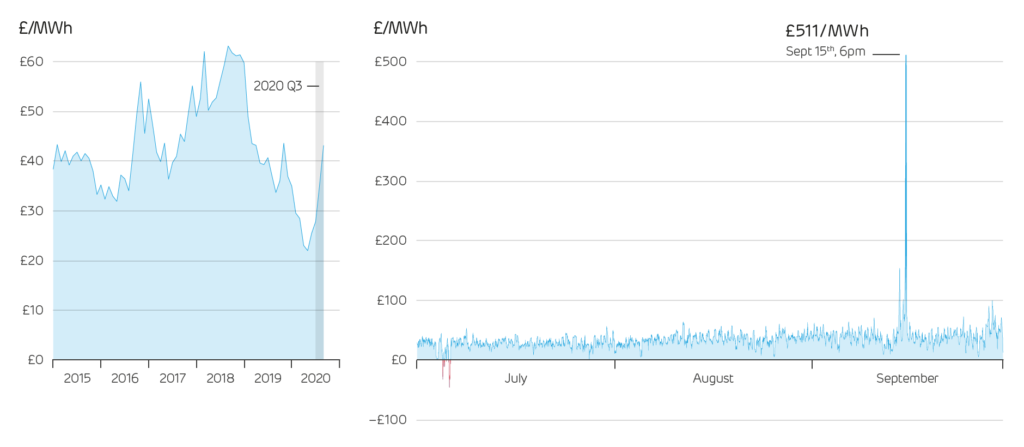 ---
[1] Two stations (Sutton Bridge and Severn Power Station) have gone into a long-term dormant preservation state. A third station (Baglan Bay) was described in news reports as being unaffected, but has declared itself unavailable to the power market for the rest of this year, implying that it may follow suit.