Q4 2016: A low carbon Christmas
Download PDF

by Dr Iain Staffell – Imperial College London
2016 saw Britain's cleanest Christmas: up to 81% of electricity was supplied by low-carbon sources as Santa delivered his presents.
The share of nuclear, biomass, hydro, wind and solar did not fall below 60% during the three days between Christmas Eve and Boxing Day.
Over the three months, the average share of low carbon electricity was down from 50% in Q3 to 40% in Q4, due to higher demand (met by gas and coal) and the collapse of French imports. This share was especially high over the Christmas period due to low demand combined with high winds. Electricity demand was reduced as workplaces shut down for the holidays, whilst Storm Barbara hit Britain with 90 mph winds from the 23rd.
At their peak, wind farms met 37% of British demand – powering around 15 million people, or everyone (and everything) north of Nottingham. Despite being just days after the winter solstice, solar PV still produced a notable amount of power on clear days, peaking at 3.4 GW (or 9% of demand) over the Christmas week.
This proves it is technically possible to run the power system with very little fossil fuels; although the market's response was for prices to fall negative in the early hours of the morning on all three days.
Generation mix over the week surrounding the Christmas period: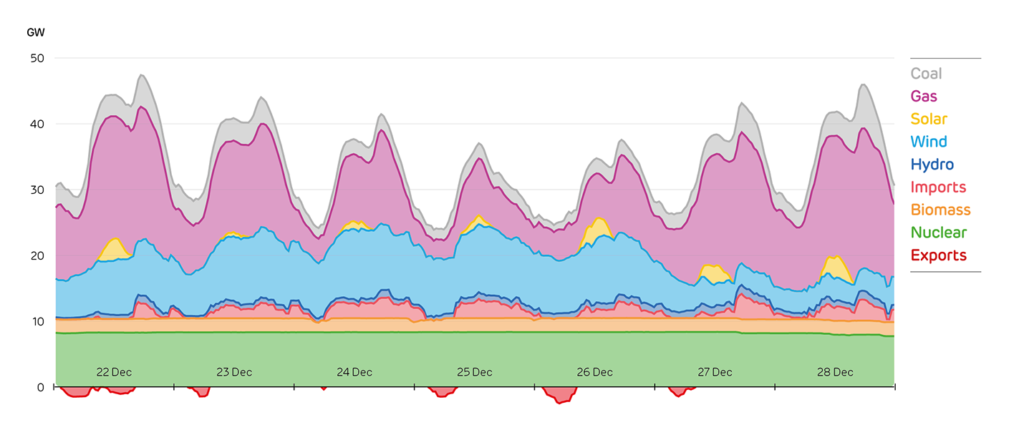 Explore this data on the Electric Insights website.
Authors: Dr Iain Staffell, Professor Richard Green, Dr Rob Gross and Professor Tim Green