Q4 2017: Capacity and production statistics
Download PDF

by Dr Iain Staffell – Imperial College London
This quarter saw wind output grow by 65% on this quarter last year, increasing its share of generation by 8 percentage points.
This extra wind pushed down output from gas plants, which lost 6 percentage points of the mix versus Quarter 4 2016. Output from nuclear and biomass plants was lower than last year due to outages. Sizewell B went offline for statutory maintenance in November, and a small fire closed two biomass units at Drax in late December.
Coal supplied 3.5 GW averaged over the quarter, meaning the coal fleet ran at only 1⁄4 utilisation. At its peak though, four fifths of coal capacity ran simultaneously, producing 12.4 GW. The only new capacity to come online during 2017 was wind and solar farms. Over 4 GW of capacity was commissioned, bringing the total to almost 31 GW.
Power prices were stable and similar to last year, averaging £50/MWh over the quarter. Prices were negative for 15 hours, and there were no extraordinary price spikes. The marked reduction in volatility meant the highest price over the quarter was £178/MWh – down from £1500/MWh seen earlier in the year.
The year ended on a green note. Once again British electricity had its cleanest ever Christmas, as high winds combined with low demand, caused by Christmas Day being the second warmest on record (averaging 9.7°C). One third of electricity came from renewables, and one third from nuclear, meaning the carbon intensity ranged from just 72 g/kWh overnight up to 208 g/kWh at lunch time.
Britain's electricity supply mix in the fourth quarter of 2017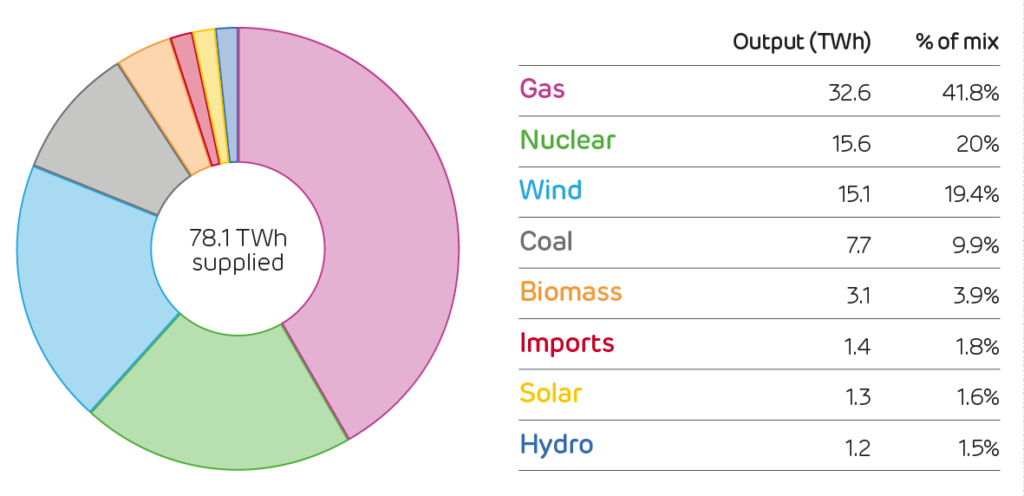 Installed capacity and electricity produced by each technology1

Other statistical sources give different values because of the types of plant they consider. For example, BEIS Energy Trends records an additional 900 MW of wind, 600 MW of biomass and 500 MW of solar, respectively producing 1.4, 1.2 and 0.2 TWh extra per quarter. These plants and their output are not visible to the electricity system and so cannot be reported on in Electric Insights. ↩
Authors: Dr Iain Staffell, Professor Richard Green, Dr Rob Gross and Professor Tim Green.