Q1 2019: Headlines
Download PDF

by Dr Iain Staffell – Imperial College London
There is a new groundswell of support for tackling the global environmental crisis head on and reducing carbon emissions to — or even below — zero.
School strikes for climate, led by Greta Thunberg, have become a global movement in a matter of months. David Attenborough's Climate Change: The Facts was the BBC's first documentary in over a decade to cover "Earth's greatest threat in over 1000 years". Extinction Rebellion closed parts of London for a week to protest against inaction over climate change. MPs have made history by passing the world's first declaration of an "environmental and climate change emergency".
The UK is in a position of strength. It is again a top performer in PWC's Low Carbon Economy Index, and was ranked #2 at COP24 for transforming its energy system. Much of this is due to progress in the electricity sector, but as the quick win of phasing out coal nears completion, further decarbonisation is slowing and the UK risks missing its carbon targets for 2025 and beyond.
The Committee on Climate Change spells out what is required in its landmark report on achieving net-zero emissions by 2050. Britain must redouble its commitment to renewables: despite costs falling dramatically, less new capacity is being built than at any time since 2010, and the UK has continued to fall in the EY Renewable Energy Country Attractiveness Index. Britain's power system should continue to lead the way on emissions cuts, rapidly heading towards zero in the 2020s. This must then be followed by rolling out bioenergy with CCS, hydrogen, and smart new tools to improve flexibility. The electricity sector should then expand to provide clean heating and transportation by ramping up the market for electric vehicles (which are around 3% of new sales today) and electric heat pumps (around 1% of new home heating systems).
This quarter, Electric Insights looks at how low Britain's power system can go, in terms of fossil fuels and carbon emissions, because of the key limiting factor: how much controllable generation we need. National Grid ESO's Head of National Control discusses their roadmap for operating a zero carbon system in 2025. Our second article looks at what to do when the wind doesn't blow. The three main options: interconnection, storage and conventional fuels all have roles to play in balancing out lulls in wind output.
Britain's interconnection received a boost as the Nemo link to Belgium opened at the end of January. This pushed imports to record highs, and meant that more than a tenth of our electricity was produced abroad for the first time ever. We take a look at our neighbouring power systems and where Britain's imports come from.
The three months to March saw large changes in the power system from Q1 2018. The capacity and production statistics reveal that the mild winter kept demand low, coal output fell by two-thirds, and interconnectors saw the highest running hours of any technology. Finally, following on from last quarter's article, Electric Insights now includes a quarterly update on all of Britain's power system records. This quarter, 22 of the records we cover were toppled.
Comparison of the first quarter of 2019 to previous years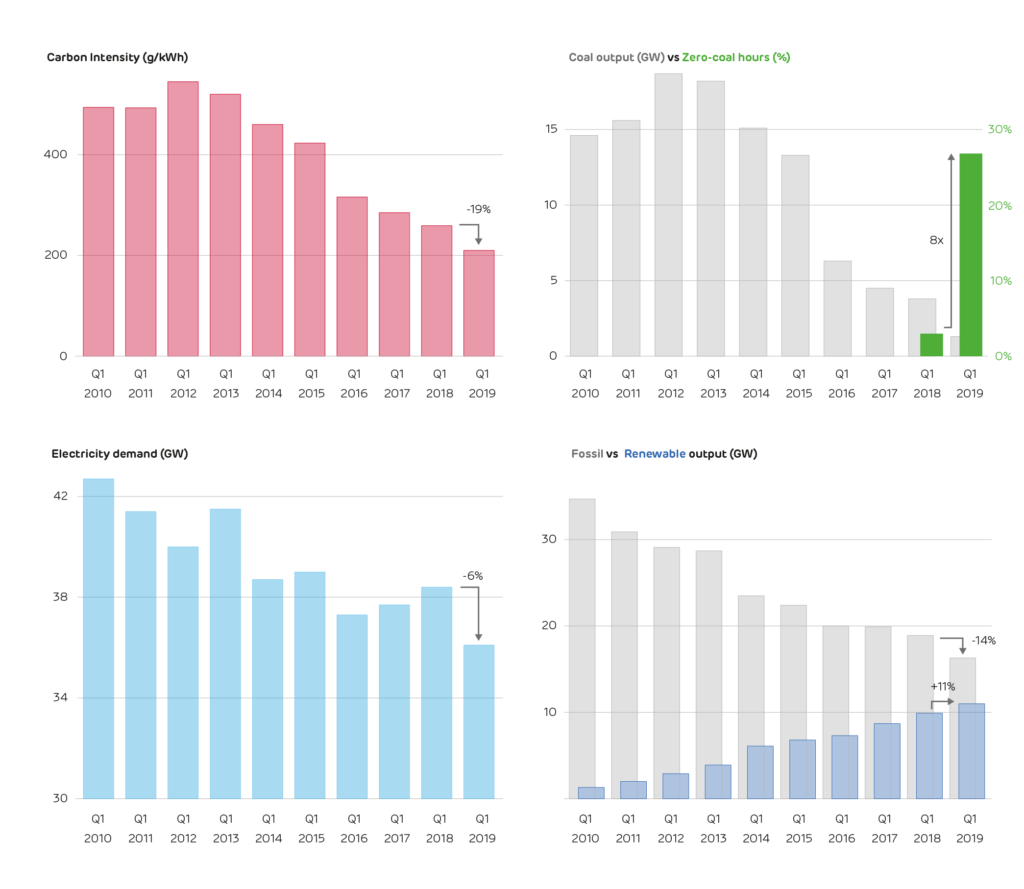 Authors: Dr Iain Staffell, Professor Richard Green, Dr Rob Gross and Professor Tim Green.