Q1 2019: Where do Britain's imports come from
Download PDF

by Dr Iain Staffell – Imperial College London 
As Britain's electricity imports are on the rise, we look at how our neighbouring countries generate their electricity. 
Europe's electricity mix is diverse, ranging from fully-renewable through to heavy reliance on coal and gas. The graphic below details where our imported electricity comes from – mapping the current and proposed interconnectors to Britain, and the makeup of each of our neighbours' power systems. 
Britain currently have five interconnectors: 2 GW to France, 0.5 GW each to Northern Ireland and the Republic of Ireland, and 1 GW each to the Netherlands and Belgium. The British and Irish power systems trade back and forth on a roughly equal footing, but the other links primarily export to us. The share of power coming from each country is mainly governed by the size of their links. Around half of Britain's imports came from France, and a quarter each from Belgium and the Netherlands.
Imports from Belgium are mostly nuclear and gas, and are similar in their carbon content to British electricity (183 g/kWh in Belgium versus 227 g/kWh here, averaged over 2017–18). Belgian electricity is much cleaner than imports from the Netherlands or Ireland, which primarily burn gas and coal. France is our cleanest connected neighbour, with 90% of their electricity coming from nuclear and renewables.
More links to France and Ireland are in the pipeline, followed by longer cables to Norway, Denmark and Germany. Norway has one of the cleanest electricity systems in the world, as their abundant mountain ranges mean they run on 95% hydro power. Denmark and Germany are renowned for their large shares of wind power, but these are backed up almost exclusively by coal, or its even dirtier cousin, lignite.
Map of the UK's current and planned interconnectors, with pie charts showing the grid mix in Britain and neighbouring countries 1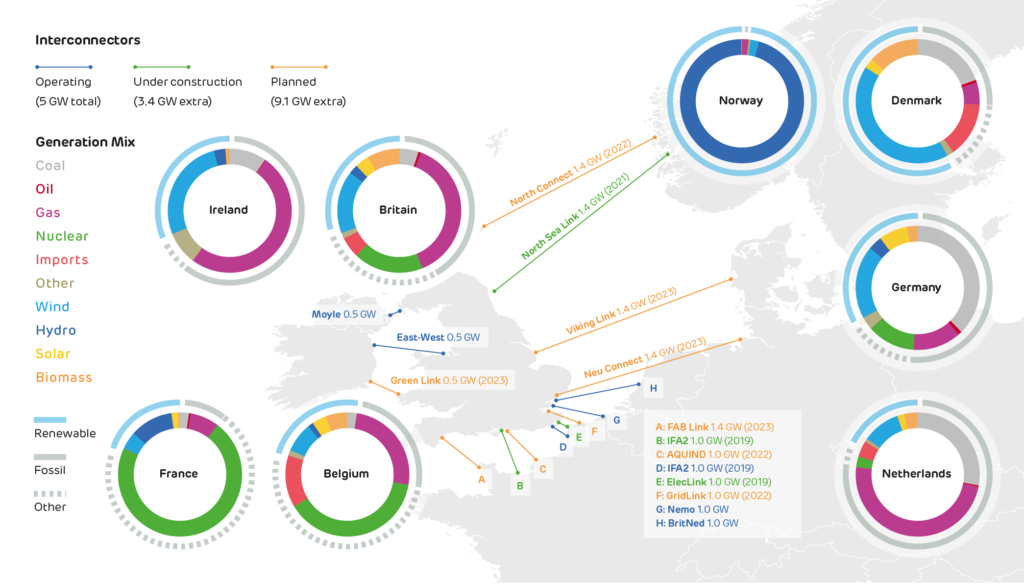 1: Grid mix is the average over 2017–18. Source: Eurostat
Authors: Dr Iain Staffell, Professor Richard Green, Dr Rob Gross and Professor Tim Green.