Q1 2020: A final fling with coal power
Download PDF

by Dr Iain Staffell – Imperial College London
Two of Britain's oldest coal power stations closed on March 31st, leaving just three left on the mainland.
But before shutting down they burnt through their remaining stockpiles of fuel, pushing up Britain's coal consumption for the first time since 2012.
Coal phase-out took another huge step this quarter. 3.5 GW of capacity was retired, leaving just over 5 GW – a far cry from the 28 GW that were operating just 10 years ago. 80% of the coal power stations once operating in Britain have now fallen silent, with capacity halving over the last twelve months.
Installed coal power station capacity over the last decade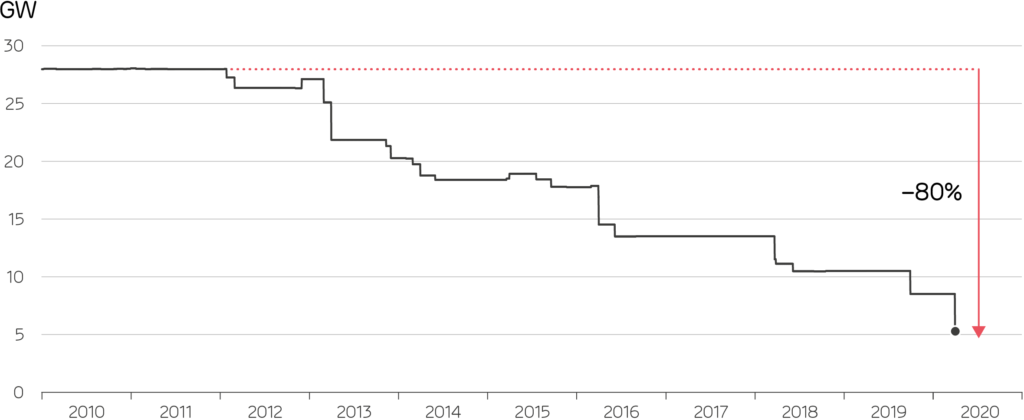 Fiddler's Ferry in Cheshire and Aberthaw B in south Wales were built in the late 1960s and early 1970s, and had operated for nearly 50 years. Both closures were announced last summer on financial grounds, as the UK's strong carbon price1 meant they could no longer compete with the lower cost of gas and renewables.
Rather than go out with a whimper, these stations increased their output over winter. Coal power generation was up 3% on the same quarter last year. While absolute output was small (4% of electricity consumed over the quarter), this was the first year-on-year rise in eight years. For the first time since 2017, there was not a single hour with zero coal generation over the majority of winter. Coal continued generating without pause for 117 days straight, from November 12th through to March 8th. The previous winter saw almost 400 coal-free hours during the same period.
It appears these plants ran consistently whether or not they could make a profit from selling power. During the winter (October 2019 to March 2020), coal plants continued producing 750 MW all the way down to prices of –£75/MWh. The winter before that, coal plants almost never ran when power prices fell below £45/MWh.
Why might they have been willing to pay handsomely to dispose of their electricity? Coal stockpiles must be actively managed to prevent uncontrolled fires. Coal power stations can sit on several months' worth of fuel, and there are relatively few buyers of coal left in the country. Generating power (even at times of low or negative power prices) may have proven less costly than safe disposal of fuel after the plants had shut.
Going forwards, coal generation is likely to be lower than ever. With reduced demand and growing renewable output, Britain had already gone more than a month without any coal generation at the time of going to press. Of the three remaining coal stations, Drax's coal units will cease operating in March 2021. The other stations may well retire before the government's 2025 deadline; marking the end of an era.
Average coal generation over the winter months during times of different power prices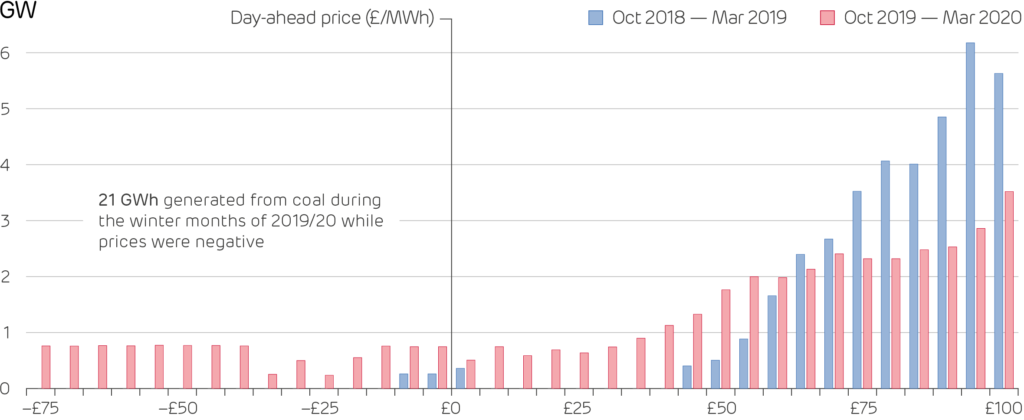 1: The carbon price paid by British power stations averaged £37.60 per tonne of CO2, averaged over the quarter.