Q1 2017: New records for renewables
Download PDF

by Dr Iain Staffell – Imperial College London
All forms of renewable energy had a record breaking quarter to start off the year.Britain's wind farms made the news for recording their highest ever quarterly output. Behind the scenes, biomass and hydro power also produced more than ever before, and solar power reached a new high for peak power output.
The weather helped wind farms to beat the previous production record (set in 2015) by more than 10%, generating 11.3 TWh over the quarter. Half of this gain came from new farms being built, as installed capacity grew 5% in the last year. Wind farms produced more electricity than coal on 57 out of the 90 days this quarter, and wind power has now beaten coal over the last four consecutive quarters.
Biomass hit a new high of 4.4 TWh, meaning the fleet ran at 95% of full capacity over the quarter: higher than any other technology has achieved in the last 10 years1. Hydro power also had a record quarter hitting 1.6 TWh; 20% above its previous best in 2011. Finally, at the end of March solar reached a new peak output of 7.67 GW – enough to power a fifth of the country at the time.
Compared with last year, gas power stations saw the biggest increase in output, followed closely by wind. Coal was the biggest loser, down by 30% on last year, and imports from France were also much lower as the damaged interconnector didn't return to full power until February. The net impact of all these changes was a 2.6 million tonne fall in CO2 emissions.
Left: The total energy production from renewables which broke their production records in Q1 2017.
Right: the change in output from all technologies between Q1 last year and this year.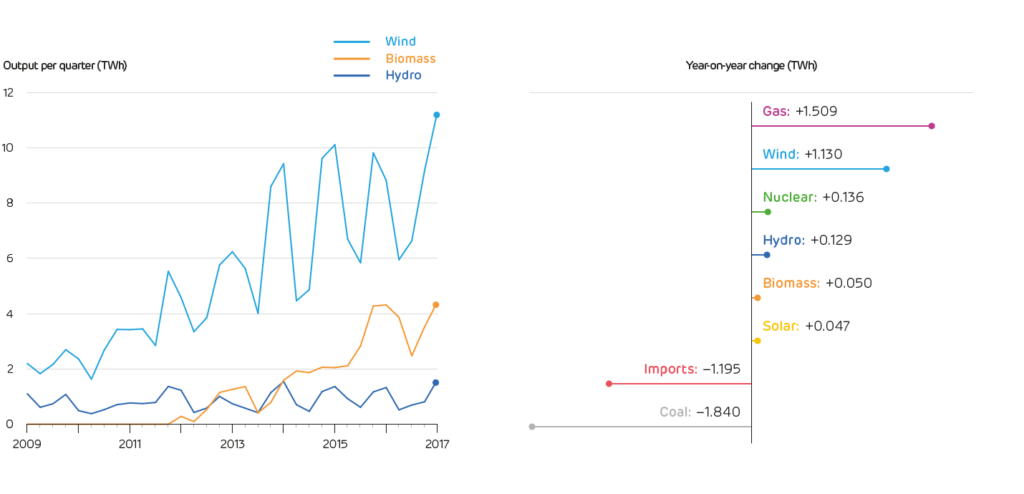 Authors: Dr Iain Staffell, Professor Richard Green, Dr Rob Gross and Professor Tim Green
Britain's nuclear fleet rarely exceeds 85% availability due to its age. The coal and gas fleets typically produce 30–60% of their full capacity over the year as their output varies in line with demand; the whole fleet only runs close to full output at peak times. ↩