Q1 2017: The mild winter windfall
Download PDF

by Dr Iain Staffell – Imperial College London
Britain has again experienced a mild winter, keeping down electricity bills and carbon emissions.
2017 has so far been 1.9°C warmer than the 20th century average, lowering the country's demand for electric heating.
Similarly, winter 2015/16 was the mildest for 150 years, meaning electricity demand over the winter months was just 12 TWh higher than in the neighbouring summers.1 In contrast, demand was 26 TWh higher in the winter of 2009/10, which was the coldest for a generation. Comparing these, over 14 TWh of electricity didn't need to be generated in 2015/16 because of the mild weather, in addition to savings from efficiency and other factors that brought the long-term average down.
This mild weather translates into a windfall of around £650 million that didn't need to be spent on generating electricity.2 Most of this reduced consumption comes from households and businesses – so the saving to end consumers would be at least double this, as they pay more per unit of electricity. The environment also benefits, as CO2 emissions were 4.4 MT lower thanks to the weather.3
Mild winters also reduce the peak demand for electricity. This has fallen from 60.1 GW in 2009/10 to just 52.0 GW in 2015/16, making it easier to 'keep the lights on' at a time when much of the country's capacity is retiring. Britain's weather is far from reliable though, so demand can change drastically from one winter to the next.
Monthly average electricity demand, highlighting the deviation from the long-run average during the colder (blue) and warmer (red) months.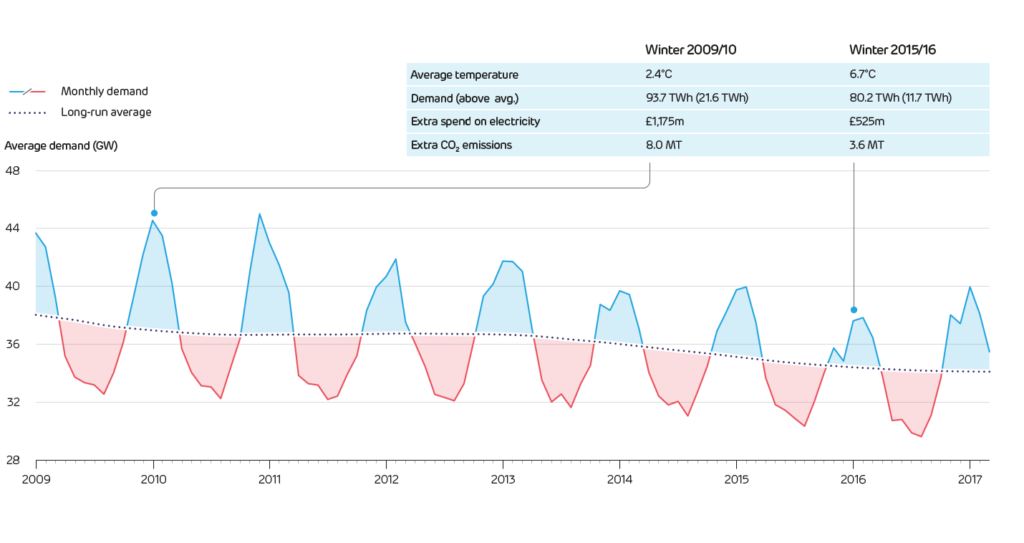 Authors: Dr Iain Staffell, Professor Richard Green, Dr Rob Gross and Professor Tim Green
Dec 2015 to Feb 2016 compared with Jun-Aug 2015 and Jun-Aug 2016. ↩
Assuming a long-term average day-ahead price of £45/MWh. ↩
Assuming a constant average carbon intensity of 305 g/kWh (the average during winter 2015/16), to avoid miscounting the effect of carbon intensity falling since 2009/10. ↩