Q1 2017: The quarter's headlines
Download PDF

by Dr Iain Staffell – Imperial College London
This quarter's issue looks at how the weather is increasingly affecting the power system.
Britain's renewables are once again breaking records, with Quarter 1 seeing wind, biomass and hydro all register their highest energy production (see Article 2).
At the end of March, solar also recorded its highest ever peak output, reducing demand on the national grid so far that afternoon demand fell below overnight levels for the first time ever. Article 3 explores how solar power affects the rest of the system, and how power stations are having to change their daily schedules in response.
Coal output fell 30% from this time last year due to high wind output and the mild winter. Carbon emissions were 10% lower than in Q1 2016 as a result. Britain's electricity has changed so radically that the generation mix in the dirtiest hour of this quarter was lower carbon than the average electricity produced between 2009 and 2013 (see Article 4).
The weather is also changing gross consumption of electricity. Britain experienced another mild winter, reducing the need for electric heat in homes and workplaces. Article 5 looks at how this saves both money and carbon, but cannot be relied on to keep the lights on when capacity is in short supply.
The growth of weather-driven renewables and the increasing volatility of power prices have made the timing of electricity production more important and highly valued. Article 6 explores how much the market pays for electricity from different technologies, and why electricity from flexible and controllable generators is worth more. Finally, Article 7summarises the statistics for the quarter.
Daily average generation mix during the first quarter of 2017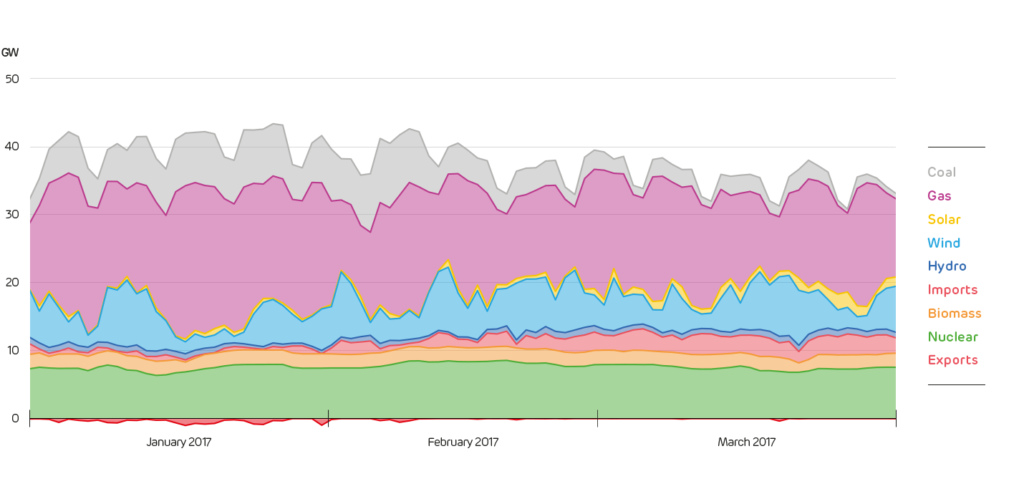 Authors: Dr Iain Staffell, Professor Richard Green, Dr Rob Gross and Professor Tim Green