Q1 2023: Britain's imports overtake nuclear power
Download PDF

Dr Iain Staffell, Professor Richard Green, Professor Tim Green and Nathan Johnson – Imperial College London, Dr Malte Jansen – University of Sussex, Professor Rob Gross – UK Energy Research Centre
In another first for the country's electricity mix, Britain's nuclear fleet has been overtaken by imports from abroad. Nuclear has continued its recent bad run, with output falling to its lowest in 40 years. In contrast, electricity imports reached their highest ever in February, and then March broke that record again.
Electricity imports surged to their highest levels on record, peaking above 8 GW in February as part of the IFA link that was damaged by fire back in 2021 came back online. Imports have quadrupled over the last six months as the capacity crisis that gripped France over last summer has eased off, meaning power prices have fallen further on the continent.
In contrast, nuclear output has fallen to a 40-year low. Britain's reactors produced 42 TWh over the twelve months to March, their lowest since 1982. February's output averaged below 4 GW, less than half the levels seen just five years ago. Britain's newest reactor, Sizewell B, was switched off for two months for maintenance and refuelling. This coincided with one reactor being offline at every one of Britain's nuclear power stations, also for refuelling. On the 17th, when the second unit at Sizewell B shut down, nuclear output reached a minimum of just 2.1 GW – less than the expected output of Hinkley Point C alone when it comes online.
Monthly average electricity imports and generation from nuclear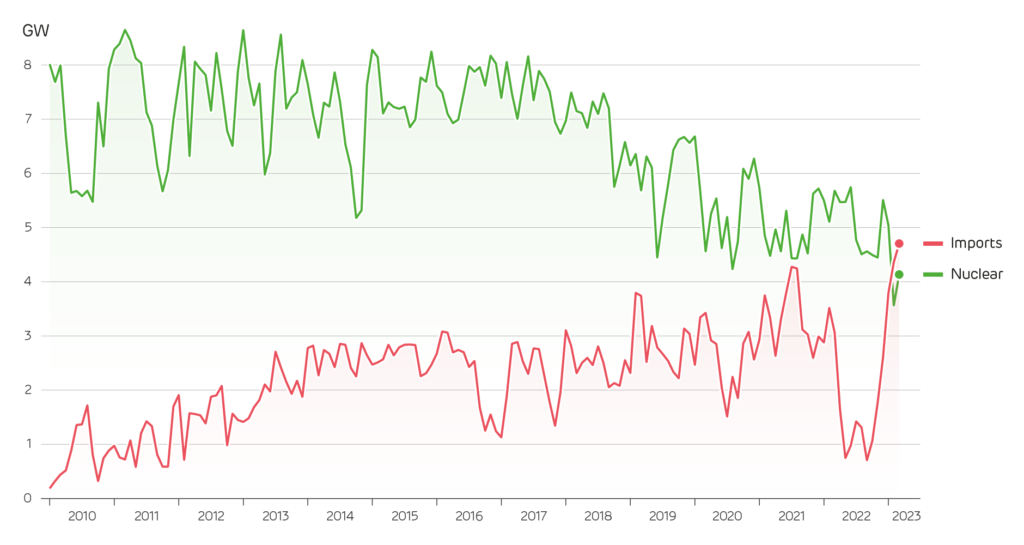 It has been a difficult year for nuclear power across Europe. Germany brought fifty years of nuclear power generation to an end, closing its final power stations in April. Meanwhile, nuclear power generation hit a 30-year low in France last year as half of its fleet was offline due to delayed maintenance outages. There are signs of a nuclear renaissance though. In April, Finland finally opened Olkiluoto 3, Europe's first new nuclear station in 16 years. Globally, 60 nuclear power reactors under construction and due to come online by 2030, mostly in China, with hundreds more on order, planned or proposed.
While importing more electricity has helped to counter falling nuclear output, this increased reliance on Europe takes energy security issues out of the hands of the National Grid. The government's Energy Security Plan aims to more than double interconnection capacity by 2030 (from 8.4 to at least 18 GW). Just increasing interconnection capacity is only part of the puzzle – there must also be surplus electricity available across Europe to meet shortfalls in the UK. As European nations contend with their own shortfalls in electricity supply, and as major weather systems (both stormy and calm) tend to affect our neighbouring countries simultaneously, plentiful exports cannot always be relied on. The natural gas crisis prompted by the Russian invasion of the Ukraine has brought energy security issues into sharp focus, and may change the thinking around increasing, rather than decreasing, our reliance on other countries for energy supply.
Half-hourly output from nuclear reactors over the first quarter of each year since 2010