Q1 2023: Capacity and production statistics
Download PDF

Dr Iain Staffell, Professor Richard Green, Professor Tim Green and Nathan Johnson – Imperial College London, Dr Malte Jansen – University of Sussex, Professor Rob Gross – UK Energy Research Centre
Wind farms produced 24 TWh of electricity over the quarter, up 3% on last year. Gas output fell by 5%, allowing wind to become the largest source of electricity for the first time.
Britain's electricity supply mix in the first quarter of 2023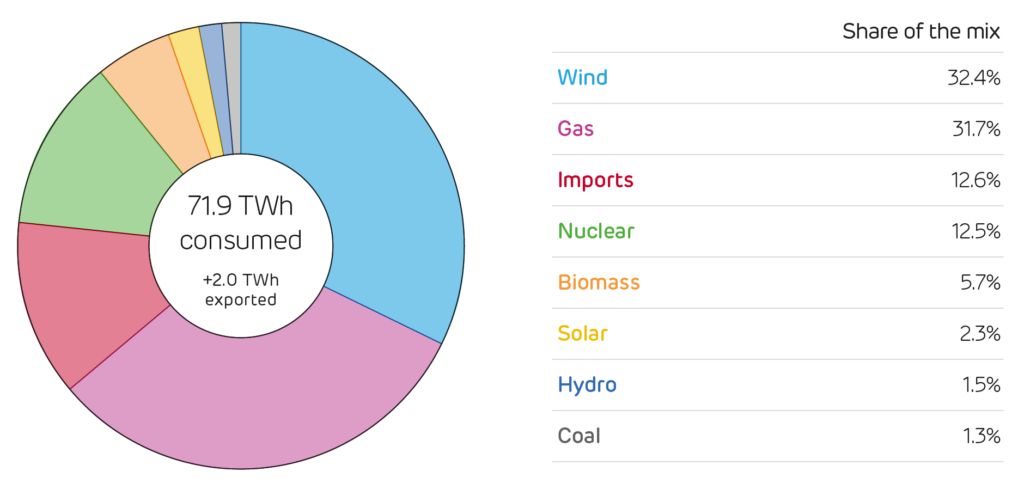 Electricity demand fell by 4% compared to the same quarter last year, in part due to a milder January, but likely also due to high energy prices pushing people to use less. The Department for Energy Security and Net Zero report that overall consumption across all fuels is down by 12% compared to pre-pandemic levels.
Britain now has just a single coal-fired power station in operation, following the closure of West Burton A in Nottinghamshire and the last coal units at the Drax power station in Yorkshire. Half of the country's remaining coal power station capacity retired in the last year.
These announcements coincide with the forthcoming closure of the UK's largest opencast coal mine in Merthyr Tydfil. Britain's last remaining coal-fired power station, Ratcliffe-on-Soar, is due to close in September 2024 following a two-year extension to its availability, marking the definitive end of coal-fired electricity in Britain.
Installed capacity and electricity produced by each technology [1, 2]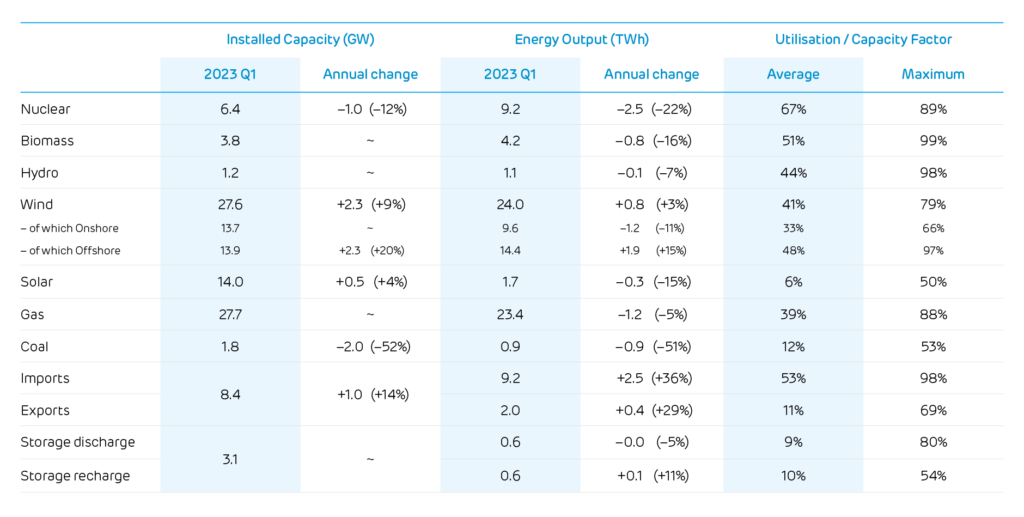 [1] Other sources give different values because of the types of plant they consider. For example, BEIS Energy Trends records an additional 0.7 GW of hydro, 0.6 GW of biomass and 3 GW of waste-to-energy plants. These plants and their output are not visible to the electricity transmission system and so cannot be reported on here.
[2] We include an estimate of the installed capacity of smaller storage devices which are not monitored by the electricity market operator. Britain's storage capacity is made up of 2.9 GW of pumped hydro storage, 0.6 GW of lithium-ion batteries, 0.4 GW of flywheels and 0.3 GW of compressed air.