Q1 2023: UK losing wind and solar leadership
Download PDF

Dr Iain Staffell, Professor Richard Green, Professor Tim Green and Nathan Johnson – Imperial College London, Dr Malte Jansen – University of Sussex, Professor Rob Gross – UK Energy Research Centre
Money is not the only thing that the USIRA and other acts will provide. They also seek to remove the debilitating regulatory barriers to building more clean energy infrastructure. Such barriers have ground the UK onshore wind and solar industries to a halt, so the UK now has among the lowest growth rates in the world.
Regulatory barriers are stifling investment in the UK's clean energy transition. Onshore wind is a prominent example: tight planning restrictions and guidance on where turbines can be sited has ground the once-booming industry to a standstill. Only two onshore wind turbines were built across England in 2022, and despite the incoming Sunak government pledging to lift the ban, only one single turbine has begun construction this year. As onshore wind is one of the cheapest forms of electricity generation in the UK, blocking new onshore wind projects translates to higher costs for billpayers with a recent estimate putting this cost at a 'staggering' £182 per household last year. This has prompted calls for the government to put onshore wind projects back into the Nationally Significant Infrastructure Projects framework which would enable them to bypass local planning requirements. As with fiscal support, regulation needs to change drastically to make the UK an attractive destination for clean energy investors.
Last year's government sought to ban ground-mounted solar farms, but even though that was taken off the table, some projects are stuck in eternal limbo as they are told to wait more than 10 years to receive a connection to the grid. In contrast, wind and solar power are both booming across Europe, in an effort to reduce reliance on imported natural gas and reduce expensive fuel bills.
Ranking of the world's 15 largest economies in terms of annual growth in wind and solar PV capacity in 2022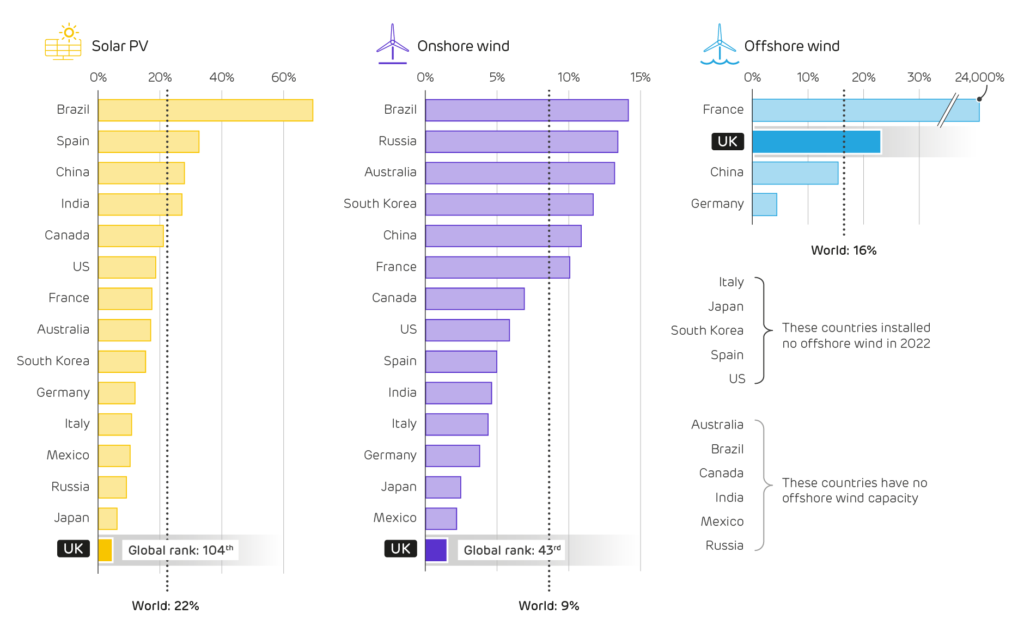 The UK installed just 3 watts of onshore wind and 9 watts of solar per person in 2022, not enough to run a single low energy lightbulb. In contrast, Finland and the Netherlands installed over 400 watts of wind and solar capacity respectively in the last year.
The UK took an early lead with renewables, and is ranked 14th in the world for installed solar PV capacity. There is more PV in the UK than in the whole continent of Africa (14.4 GW versus 11.6 GW). However, this impressive lead is being squandered. The UK crashed out of the top 100 countries for growth of solar PV, with capacity increasing just 4% last year, well below the global average of 22%. Both Bulgaria and Switzerland (each with populations smaller than London) installed more than the 0.6 GW of PV that the UK managed last year.
The situation is not much better for onshore wind. The UK is ranked 9th in the world for installed capacity, but only 43nd for growth. Capacity increased by just O.2 GW last year (less than was added in Kazakhstan), giving a growth rate of just 1%, compared to the global average of 9%.
Perhaps a slowdown is inevitable, as the UK invested heavily in renewables early on, and is now 'full' and cannot take any more capacity. While that sounds plausible, Germany has 4 times more solar PV per person than the UK, but capacity also grew a 3 times the pace. The Netherlands is even more extreme, it has 6 times the PV capacity per person, (22.6 GW in a population of less than 20 million), and capacity grew by 50% last year. Similarly, Sweden has recently caught the UK up in terms of onshore wind capacity, meaning it has 6x more per capita, yet capacity still grew 20% last year, 15x faster than in the UK.
Offshore wind is the one area where the UK retains its global standing. With nearly 14 GW of capacity installed, the UK is second only to China, which now stands at over 30 GW installed. Offshore wind is still a growth industry for the UK, with capacity increasing by 2.6 GW last year (more than the entire EU27 combined). Of the world's largest economies, the UK also had the second highest growth rate, increasing capacity by 23%.
The UK is falling behind with its renewable energy expansion, leavings families and businesses vulnerable to escalating bills if natural gas prices continue to move unpredictably. As Europe capitalises on wind and solar resources to achieve energy independence and economic stability, the UK must swiftly re-evaluate and redouble its efforts towards reaching net-zero. Dithering and delay may result in long-term economic repercussions and a diminished role in the global race towards a cleaner energy system.