Q1 2023: Sizing up the US clean energy boom
Download PDF

Dr Iain Staffell, Professor Richard Green, Professor Tim Green and Nathan Johnson – Imperial College London, Dr Malte Jansen – University of Sussex, Professor Rob Gross – UK Energy Research Centre
On January 1st, the humbly named United States Inflation Reduction Act (USIRA) came into force. This spearheads a new wave of clean energy legislation which puts America at the heart of the new green industrial revolution. As Europe prepares to respond with its ambitious Green Deal Industrial Plan, does the UK risk getting left behind?
The USIRA commits $370 billion of new spending and tax breaks towards decarbonisation and clean energy activities. This complements two other recent laws. First, the 2021 US Bipartisan Infrastructure Law (BIL) sets out $1 trillion in new funding to revitalise US infrastructure, including $76 billion for clean energy. Second, the 2022 CHIPS and Science Act targets R&D and commercialisation of advanced technologies, with almost a third of the $280 billion going to clean energy and transportation. This alone outstrips federal government spending on climate issues over the last fifteen years.
Overall, the IRA, BIL and CHIPS provide well over half a trillion dollars towards decarbonisation over the next decade. This is spread across a range of sectors: renewable generation, carbon capture and storage, nuclear, batteries and hydrogen all see well in excess of $25 billion each.
The US package of clean energy spending amounts to $1,650 (or £1,350) per person. The UK would have to commit over £80 billion to match this. Currently, the UK government is spending only two-thirds as much, but rather than funding proactive investment in the future, the majority of UK spending has been in reaction to the recent energy crisis, providing enormous sums of money to protect consumers by capping energy bills. While this was absolutely necessary to protect households and the national economy from disaster, it has cost 4% of the country's GDP, and does not put UK industry in a stronger position going forwards.
Currently, the UK is only spending one-quarter as much as the US per person on clean energy. Even compared to Germany, which has also paid dearly to curb energy bill rises, the UK is spending 60% less. As well as the scale of investment, but also the direction of travel is a cause for concern. Overall investment in the UK's clean energy transition fell by 10% last year, compared with nearly a 25% increase in the US.
Government spending per capita on energy in the US, Germany and UK. Data up to December 2022 from the IEA Government Energy Spending Tracker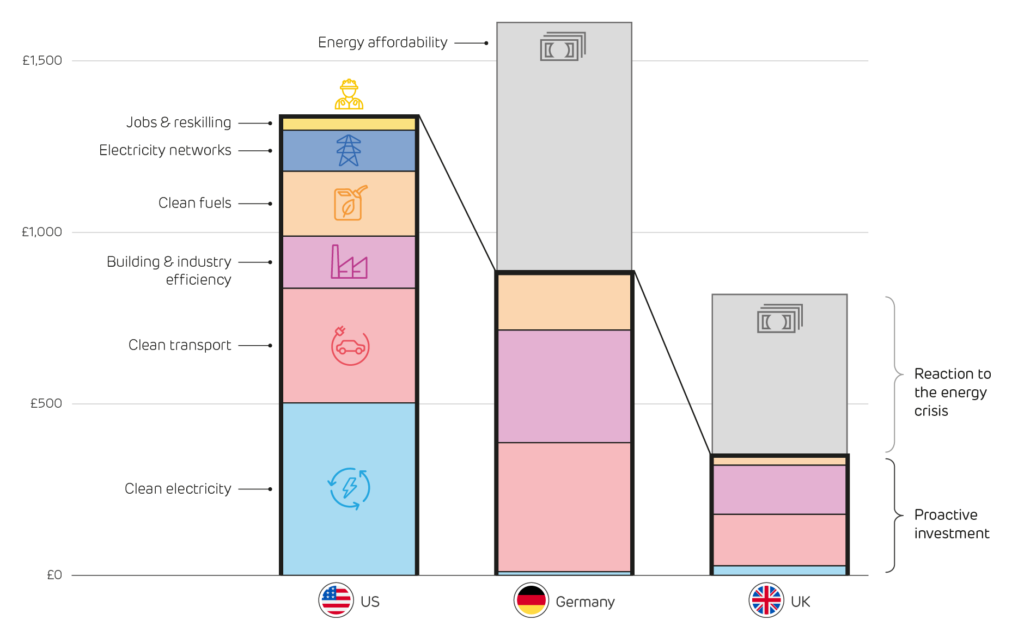 The UK risks falling behind the competition unless there is a drastic change of course. The 2023 budget does not suggest this is so. Carbon capture and storage will receive "up to" £20 billion over 20 years, but not before 2025 (after the next election). Energy efficiency is set to receive a little over £12 billion over the five years to 2028. On a positive note, the government have mirrored the US in announcing temporary 100% capital allowances in 12 new investment zones. This will particularly help renewables, which have heavy upfront capital costs.
The UK's position in offshore wind manufacturing is also promising, owing to the £160 million of funding pledged under the government's Offshore Wind Manufacturing Investment Support scheme. For example, Siemens have committed to doubling the size of their offshore blade factory in Hull, and plans were recently approved for the world's largest turbine tower factory to be built on Teesside.
However, delays to the government's Zero Emissions Vehicle (ZEV) mandate created considerable uncertainty around future rates of EV uptake and demand for batteries in the UK, which made it difficult for UK-based EV and battery manufacturers to attract investment. Britishvolt, an EV battery firm, went into administration after failing to secure private investment for their £4 billion gigafactory, while several EV manufacturers have announced plans to relocate elsewhere in Europe. The UK's share of EV production in Europe is now expected to fall from 25% in 2018 to just 4% in 2030.
This gets to a key aim of the USIRA and other legislation: boosting American manufacturing and creating American jobs to counter China's growing dominance in clean energy. China manufactures 80% of the world's solar PV panels, 60% of all wind turbines, and 75% of all lithium ion batteries. The US administration was keen to reverse the decline in manufacturing and in-shore jobs in these growing sectors. In the six months since the IRA passed, clean energy companies announced more than 90 new projects and 100,000 new jobs across the US. These projects include a $4 billion Panasonic battery plant to supply Tesla EVs which alone will create 4,000 jobs, and a $4 billion green hydrogen production facility in Texas which will add another 1,500 jobs. Recent analyses project that the IRA is set to create more than 9 million new clean energy and climate-related jobs over the next decade.
Reshaping a nation's industrial policy is no small feat. It will not be easy for the UK and Europe to respond to this US package: at $538 billion it is one of the largest investment programmes ever seen. One has to look back to the investments ever made by a country to find suitable comparisons. It cost $25 billion to put a man on the moon in 1969: the Apollo Programme was equivalent to around $200 billion in today's money invested into technology R&D. Similarly, the Marshall Plan devoted $13 billion in 1948 to rebuilding Europe after World War II, equivalent to $173 billion today.
The UK requires a step-change in funding levels, and more consistent support across all elements of the transition if it wants to remain as a clean energy superpower.
Size of the current US clean energy spending in comparison to major historical investment projects, in today's money