Q4 2018: Capacity and production statistics
Download PDF

by Dr Iain Staffell – Imperial College London
This quarter, four-fifths of Britain's electricity came from gas, wind and nuclear power plants.
Low-carbon generation supplied 53% of Britain's electricity (50% from British, and 3% from French plants).
Generation from fossil fuels in the fourth quarter was down 15% year-on-year, pushed out by lower demand, more imports, and increased generation from biomass and wind farms. Coal and gas power stations each produced 3 TWh less over the quarter than they did in Q4 2017 – an average reduction of 1.4 GW each. For coal, this represents a 40% decline on this time last year.

2018 smashed the record for the number of zero-coal hours on the system. No coal generation was used for 1,900 hours during the year (equivalent to 79 days), versus just 600 hours in 2017.

However, less than 0.2 GW of solar panels were installed in 2018, meaning the annual growth has flatlined at just 1%. Earlier this year we asked whether Britain's power sector decarbonisation has stalled, and this is another signal of the slowdown.

Wholesale electricity prices edged up by £2 from last quarter to again hit a 10-year high of £61.45/MWh averaged over the quarter. This price is 25% higher than one year ago, and 66% higher than in Q4 2015.
Britain's electricity supply mix in the fourth quarter of 2018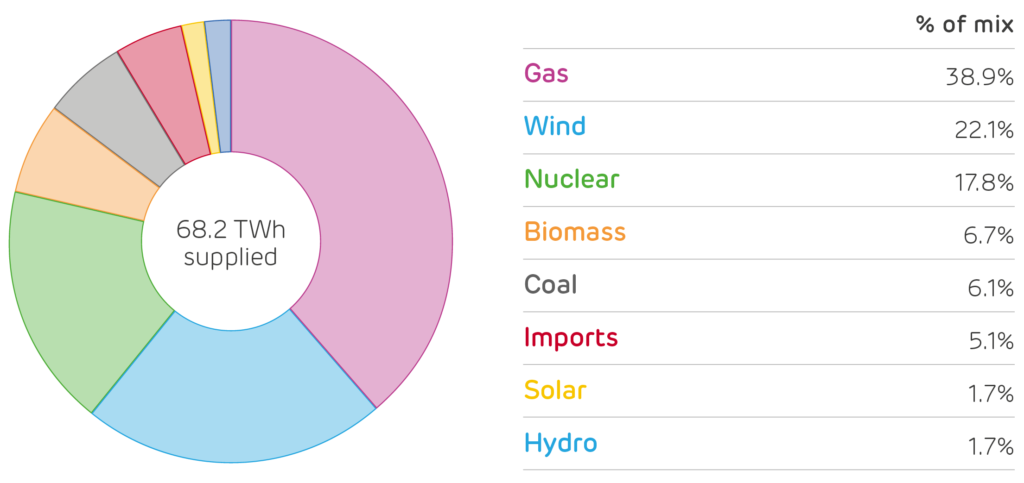 Installed capacity and electricity produced by each technology1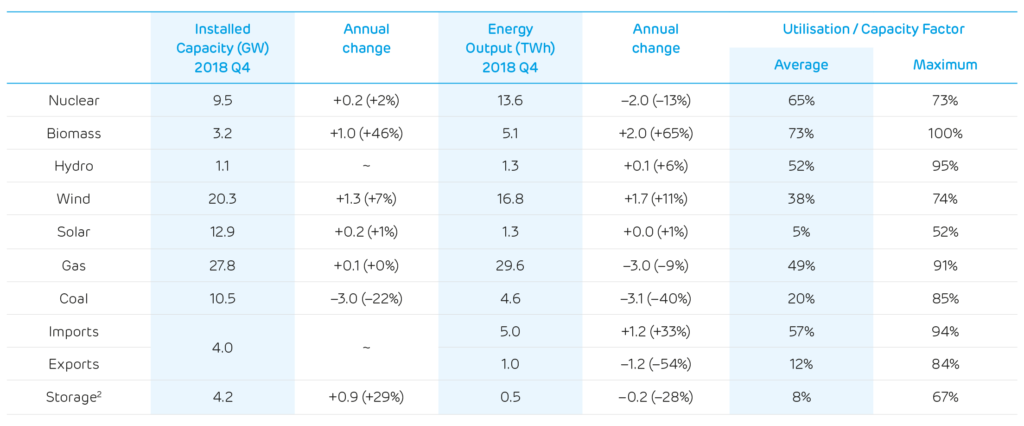 1: Other statistical sources give different values because of the types of plant they consider. For example, BEIS Energy Trends records an additional 0.7 GW of hydro, 0.6 GW of biomass and 3 GW of small waste-to-energy plants. These plants and their output are not visible to the electricity transmission system and so cannot be reported on here.
2: We include an estimate of the installed capacity of smaller storage devices which are not monitored by the electricity market operator. Britain's storage capacity is made up of 2.9 GW of pumped hydro storage, 0.6 GW of lithium-ion batteries, 0.4 GW of flywheels and 0.3 GW of compressed air.
Authors: Dr Iain Staffell, Professor Richard Green, Dr Rob Gross and Professor Tim Green.