Q4 2018: Headlines
Download PDF

by Dr Iain Staffell – Imperial College London
2018 was another strong year for clean power production.
53% of Britain's electricity was produced from low-carbon sources, and fossil fuel generation was down by 7% on the previous year, its 8th consecutive fall.
The carbon intensity of electricity averaged 217 g/kWh over the year, 8% lower than in 2017. This is the slowest rate of decline since 2013, but it still keeps us on track to meet the Committee on Climate Change's target of 100 g/kWh by 2030. Britain's carbon intensity must continue to fall by 6% per year over the coming decade to reach their target, so the current rate of progress must be maintained.
This issue reviews the state of Britain's power system in 2018, looking at how eight key trends have developed over the last decade. The second article looks forwards at what to expect in 2019: the effects of court rulings and corporate pull-outs will start to bite, and many aspects of Brexit may begin to impact on the power sector. 2018 has been a record-breaking year in many ways: wind, solar, biomass and gas generators all hit all-time highs for output. To keep track of all that is going on, we compile all the GB power system records and discuss some of the highlights.
After years of precipitous decline, coal output fell again by a quarter over 2018. Coal has become a cold-weather backup fuel. As shown in the chart below, it was only used in bulk during the Beast from the East in March, and occasional weeks of low wind output during the winter. Between April and August, Britain's 10 GW of coal stations produced an average of just 0.4 GW – running at 4% of peak output. The GB generation mix ranking shows how coal has now slipped two places this year to become the 6th largest source of electricity, behind both imports and biomass. Finally, we report on the capacity and production statistics for the quarter.
The daily average generation mix during 2018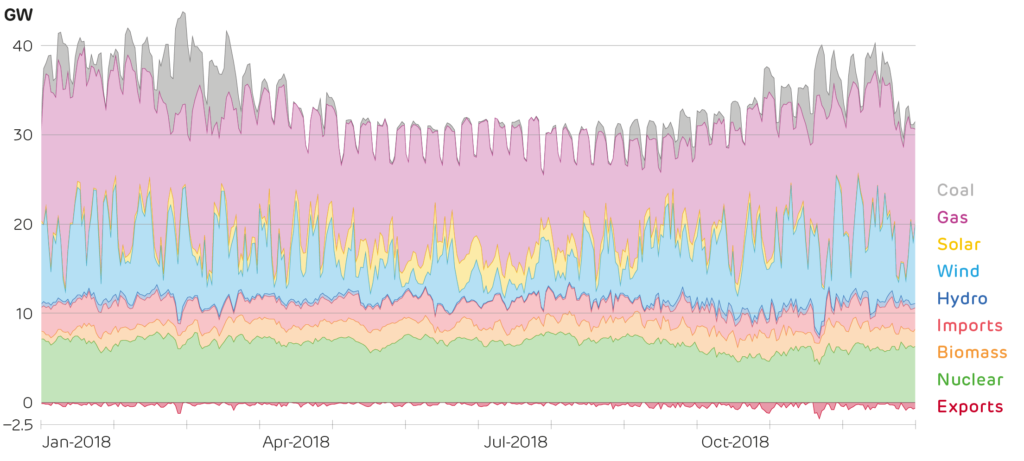 Authors: Dr Iain Staffell, Professor Richard Green, Dr Rob Gross and Professor Tim Green.