Q4 2018: The GB generation mix ranking
Download PDF

by Dr Iain Staffell – Imperial College London
It's all change in the ranking of Britain's electricity mix.
Last year, coal fell from 4th to being the 6th largest source of power, overtaken by both imports and biomass. Until 2015, Britain's electricity generation was dominated by fossil fuels, with coal and gas as the two largest sources. They traded places depending on relative fuel prices, but then in 2016 nuclear overtook coal to become the second largest source of electricity, with wind farms taking 3rd place.
For the first time since the industrial revolution, biomass is the predominant solid fuel used in Britain, as several power stations have converted from burning coal to wood pellets. This part of the ranking is very close, as Britain imported 19 TWh of electricity, generated 17 TWh from biomass and 15 TWh from coal.

Wind has been the largest source of renewable energy for the last decade, and the third largest source of electricity since 2016. In contrast, despite having 13 GW of solar installed (more than nuclear), it is only the 7th largest source of generation. The British weather means solar panels only generate for the equivalent of 2.5 hours at full output per day.1

Looking forwards, we could expect more changes in the coming years, as we eventually need cleaner sources to overtake all fossil fuels. If current trends continue, we expect solar to overtake coal in 2019, meaning it would have fallen from 1st to 7th in just five years. Overtaking gas will take much longer. It generated 115 TWh in 2018, more than both nuclear and wind combined.
The sources of electricity generation in Britain, ranked from largest to smallest annual output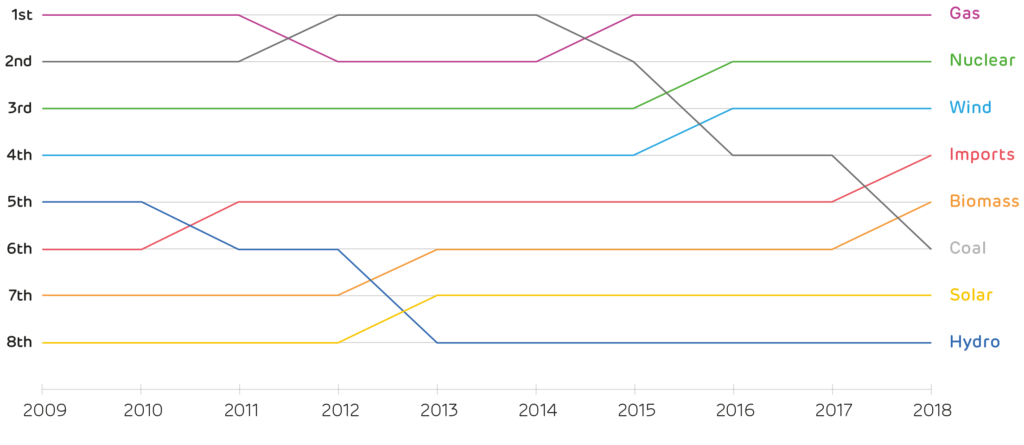 1: This average over the summer months (Q2 and Q3) is 3.6 hours of full output per day, and over the winter months (Q1 and Q4) is 1.3 hours per day.
Authors: Dr Iain Staffell, Professor Richard Green, Dr Rob Gross and Professor Tim Green.